Cabo Ground Transportation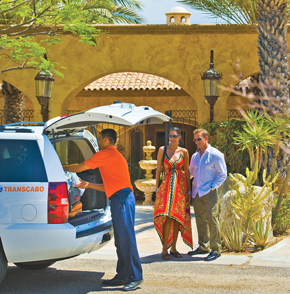 We partner with Transcabo's expert team offering professional service to make your ground transportation experience in Los Cabos effortless and enjoyable, whether you need a convenient airport transfer, daily transportation or want to reserve a sight-seeing tour. Our team can handle all of the details for your luxury getaway in Cabo.
Complimentary airport-to-private villa transfers* for our villa guests. When book one of our villas, you'll be greeted at the airport by our representative who will transport you to your villa rental for check-in. If we've reserved an Avis car rental for you, we can arrange delivery of your vehicle to the villa at no additional charge.
Groud Transportation Options Available:
Round-Trip Airport Shuttle (resorts only)
Private One-Way Airport Transfers (villas or resorts)
Round-Trip Private Transportation
VIP Customized Transportation
We offer a range of luxury vehicles accommodating 5 - 14 passengers
Professional English-speaking drivers
*Complimentary arrival transfers (up to 10 guests) available for initial Los Cabos guest arrivalsonly (first group to arrive). Some restrictions apply, contact us for full details. Upgrades and return transfers available at an extra charge.